Nestled within the prestigious community of The Valley in Dubai is Nima, an exclusive new development by the leading developer Emaar Properties. Comprising luxury 3 & 4 bedroom townhouses with breathtaking waterfront views, Nima The Valley brings an unmatched lifestyle experience to residents.
Contemporary Townhouse Designs Blend Seamlessly With Nature
The elegantly designed townhouses at Nima The Valley feature contemporary architecture that blends harmoniously with the natural surroundings. Spacious interiors, high-quality finishes, and floor-to-ceiling windows allow you to appreciate the community's picturesque setting.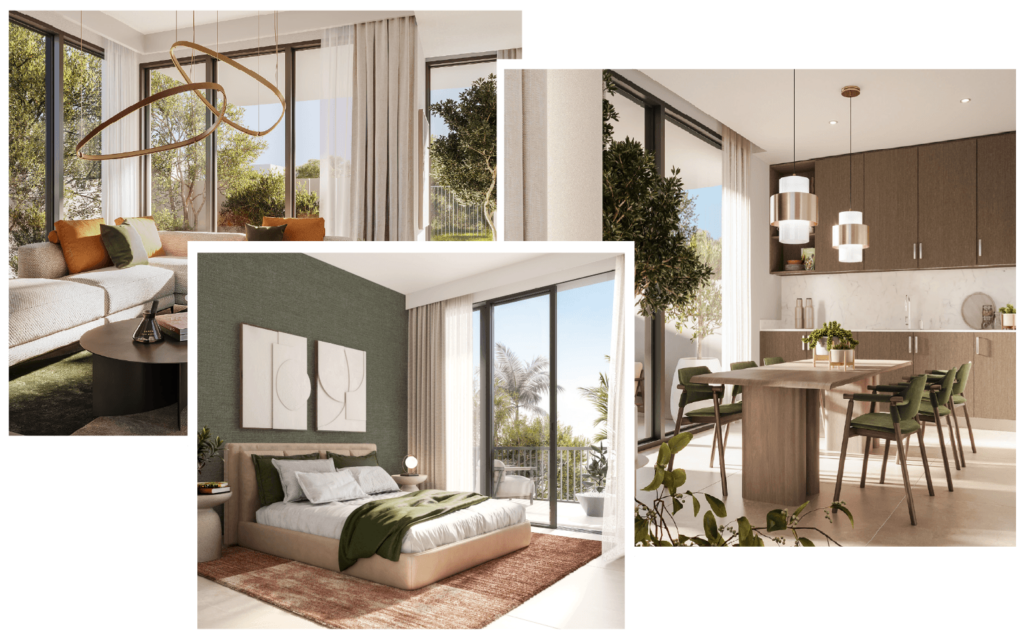 Amenities Galore for an Active, Fulfilling Lifestyle
Nima The Valley is equipped with exceptional amenities focused on promoting an active, healthy lifestyle for residents. The state-of-the-art fitness center, swimming pool, jogging tracks, cycling trails, sports facilities, and more will help you stay fit. For leisure, there are landscaped parks, outdoor dining areas, restaurants, and retail outlets.
Strategic Location Between Iconic Emirates
Perfectly positioned on the Dubai-Al Ain Road between two of UAE's most prominent Emirates, Nima The Valley offers easy access to key destinations. It is just a 5-minute drive from The Sevens Stadium and 20 minutes from Downtown Dubai and Dubai Marina.
Self-Sufficient Community With Educational & Healthcare Options
Nima The Valley is designed as a self-contained community, so you can find everything you need within the development. There are schools, healthcare clinics, retail stores, dining options, and recreational facilities available.
Escape the Hustle & Bustle Within a Gated Neighborhood
While conveniently located near the city, Nima The Valley lets you escape from the hustle and bustle within its gated community. Enjoy the peacefulness and privacy offered by this neighborhood surrounded by lush greenery and water bodies.
Own a Townhouse at Nima The Valley
As a resident of Nima The Valley, you can own a 3 or 4-bedroom townhouse designed according to your lifestyle needs. The townhouses come in two size options:
3 Bedroom Townhouse – 2,400 sq. ft. Starting Price at AED 2.1M
4 Bedroom Townhouse – 2,620 sq. ft. Starting Price at AED 2.51M
Flexible Payment Plans Make Owning Easier
Emaar Properties offers flexible payment plans on the townhouses at Nima The Valley, making it easier for you to own your dream home. Contact Banke International Properties to learn more about the payment options.
The Valley Community – A Lifestyle Destination
Nima The Valley is part of the larger master-planned community The Valley by Emaar. This vibrant neighborhood has an exceptional range of amenities focused on community living and promoting an active lifestyle.
Some highlights include:
Sports Village – With tennis courts, swimming pool, gym, and more
Kid's Dale – Imaginative play zones for children
The Pavilion – An open community area for gatherings
Golden Beach – A 30,000 sq.m beachfront leisure space
Join An Exclusive Community of Homeowners
As a resident of Nima The Valley, you become part of an exclusive community of homeowners living an exceptional lifestyle. The gated neighborhood provides privacy while letting you form bonds with your neighbors.
Life, Simplified at Nima The Valley
With its unique setting, luxurious homes, and lifestyle amenities, Nima The Valley offers comfort, convenience, and community – life simplified so you can focus on what matters.
FAQs About Nima The Valley by Emaar
What are the different townhouse options available at Nima The Valley?
There are two townhouse types – 3 Bedroom (2,400 sq.ft.) and 4 Bedroom (2,620 sq.ft.).
What are some amenities at Nima The Valley?
Amenities include swimming pool, gym, jogging tracks, sports facilities, retail outlets, restaurants, landscaped parks, kids play areas etc.
What is the starting price of townhouses at Nima The Valley?
The starting price is AED 2.1M for 3-bedroom and AED 2.51M for 4-bedroom townhouses.
What are the payment plan options for townhouses?
Emaar offers flexible payment plans to make purchase easier for buyers. Contact us to learn more.
What is the status of construction at Nima The Valley?
Nima The Valley has been newly announced by Emaar. Construction will commence soon.
When will townhouses at Nima The Valley be ready for move-in?
The estimated completion and handover timeline is to be announced.
Where is Nima The Valley located in Dubai?
Nima The Valley is part of the master community The Valley, strategically located between Dubai and Al Ain on Dubai-Al Ain Road.
Who is the developer of Nima The Valley?
Nima The Valley is being developed by Emaar https://www.emaar.com/Properties, a leading real estate developer in the UAE.
What are the nearby areas and key landmarks?
Nima The Valley is a short drive away from Downtown Dubai, Dubai Marina, The Sevens Stadium, Dubai Outlet Mall etc.
What community amenities are available for residents?
The Valley community offers amenities like sports village, kid's play zones, restaurants, beach, parks, retail stores, clinics etc.
Live an Exceptional lifestyle at Nima The Valley
Nima The Valley offers a truly exceptional lifestyle. From luxurious townhouse designs, picturesque setting, family-friendly amenities, to exclusive community living – it is a prime residential destination in Dubai. Contact the expert team at Banke International Properties today to learn more and reserve your dream home.